In a post a couple weeks ago I showed you my Subway Tile / Brick Wall Artwork that I made to replace my Rothko Inspired Art and gave you a little tease about the other piece I made to go with it. Well, you don't have to wait any more. My other new piece is this graduated polka dot painting, which was inspired by the Confetti Art at Andrea+Chris+OurChaos.
Circle stamper (I used a pill container)
For each dot I used a foam brush to cover the top of the pill container. I tried many different circles but found this to be a nice smooth surface and the perfect size. I then pushed the cover onto the canvas, making sure to roll it around to get the edges. Next I used a bristle brush to fill in any gaps in the circle and smooth over the paint.
Once the circles were dry, I added the rest of the colours, being sure to only overlap on dry circles, then left it to dry again.
At that point I thought I was done.
The more I looked at it, the more I felt like the full side needed a few more dots so I reluctantly added some more. To be honest I was terrified that I was going to mess it up. However after adding a bit more it looked finished so I stopped. I also decided I wanted it to face the other way so I turned it upside down.
Now it's hung over the end table, with my wedding pictures and the corresponding picture on the same wall. Sorry that they're not perfectly straight. Not to toot my own horn but I love it! I feel like my living room is one step closer to complete.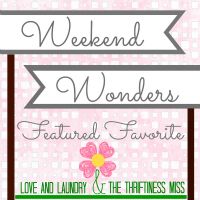 Shared at: Artsy-Fartsy Mama, The Thriftiness Miss, Diana Rambles, Snippits of Inspiration, Serenity Saturday, Life on Lakeshore Drive, C.R.A.F.T., Kathe With An E, Sugar Bee Crafts, Clean & Scentsible, Fluster Buster, Ginger Snap Crafts, The 36th Ave., Someday Crafts, A Creative Princess, Throwback Thursday