It's time again for Runners Tell All at The Lady Okie and Sunshine by the Square Inch. This month's topic is

My Proudest Running Moment

. Given that this is my proudest running moment to date and I only posted about it last week, I'm cheating and using this post.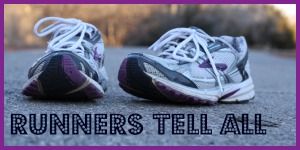 I did it! I ran the 10k at the Calgary Marathon! It was a very exciting event for me - my first time traveling for a race, my first time at a race expo, and my first time running a 10 (other than in training runs) - and I loved almost every second of it.
J and I drove to Calgary the day before the race and checked into our hotel, which was a few blocks from the Stampede Grounds, and then headed to the expo. We picked up our packages, checked out the gong (for PRs), and browsed the booths.
We also listened to a short talk from John Stanton. He had lots of advice but my favourite thing he said was a story of two runners (I don't remember the names), one of whom finished really quickly and one of whom took a long time. The slower runner told the faster runner that she was amazed by his speed. The faster runner responded that he was amazed at the endurance of the slower runner. As a very slow runner, I love this way of thinking about it.
After the expo we did a little sightseeing, ate some supper, and then laid everything out to be ready for the next morning.
I don't have any photos of before the run or the start line to share. We watched the 1/2, full, and ultra marathoners leave at 7 and then got in place for our 7:30 start. J was further ahead then me (because I'm not nearly as fast as he is) but I made a lovely friend while I was waiting. Chatting with her helped calm my nerves and we ran together for the first 3k.
I snapped a few pictures on my phone during the run but I don't know enough about Calgary or the route to know where they were. As you can see, it was a beautiful day for a run. The 4th kilometre hit me hard, making me doubt my ability to run the 10k and wonder why I'd signed up. Fortunately by the 6th I had found my groove again and was loving it.
There were people cheering along the route, which I loved and these two signs were my favourite. In case you can't read them, the first one says "You think you're tired? My arms are killing me". The second one says "If you haven't shit your pants yet, you've won". Brilliant.
Time for an embarrassing story. Around the 9k mark I started getting emotional. I couldn't believe I'd actually done what I'd set out to do and was on track to meet my goal. The problem was that getting emotional was triggering my asthma and (because I'm a genius) my inhaler was in my suitcase at the hotel. I knew I needed to calm myself down or I was going to have an asthma attack so I started thinking about the one thing that always makes me happy: chicken wings. No word of a lie, I spent the last kilometre thinking about what I'd decided was going to be my treat that day. I kept going back and forth between whether I'd rather pick up wings before leaving the city or make them myself once I got home. Ridiculous, yes, but it worked.
My goal was to run the entire distance without having to stop and walk, and I'm pleased to say I did it. I didn't really care about my time. In fact, I slowed down to take a picture of the finish line as I was crossing.
Once I'd crossed the line (my official time was 1 hour 32 minutes), received my awesome medal, and made it through the crowd, I went to find J. Of course, he had finished quite a bit before me but was patiently waiting for me on the steps where we'd planned to meet.
P.S. I never did have my wings that day.
Shared at: Kathe With An E, The Crafty Blog Stalker, Fluster Buster, Ginger Snap Crafts, Serenity You, Life on Lakeshore Drive, C.R.A.F.T., A Stroll Thru Life, The Happy Scraps