Um, hey. Remember me? I'm finally back and have an awesome, easy project to share with you today.
We're doing intervention blocks at school this year and for students who aren't claimed, one of the options is a craft. As you can imagine, I'm pretty excited about getting to craft with my students every week. When I was looking for an activity I could do with some students, this seemed like a cheap, doable idea.
Before doing this with students, I made sure we had the supplies we needed at school and made a couple samples to show them. I also brought my first painters tape art (which still hangs in my living room) to show them. As well, I typed up and printed a powerpoint slide with the instructions to scatter around our workspace.
Supplies:
Canvas
Painters tape or masking tape
Paint
Paintbrush
Water and paper towel
Instructions (if doing this with a group)
Scrap paper or a table cloth (if you want to protect you surface)
Step 1: Place the tape.
Step 2: Paint. To minimize bleeding you should start on the tape and work your way to the centre. If you change colours, wash your brush and dry it in a paper towel.
Step 3: Remove your tape.
This went really well with the students and they all went home with a fun, new piece of art.
Also, I need to give credit to some amazing blogs. The pictures from the bottom of my powerpoint instructions came from the following blogs, listed from left to right.
3 - The link I have is broken. If you have a link, please send it to me.
Do you have any great projects to do with teenagers? I'd love suggestions!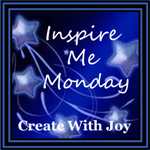 Shared at: Life on Lakeshore Drive, Natasha in Oz, What Meegan Makes, Create With Joy, Made in a Day, A Stroll Thru Life, Kathe With An E, Sugar Bee Crafts, The Crafty Blog Stalker, Just a Girl and Her Blog, A Creative Princess